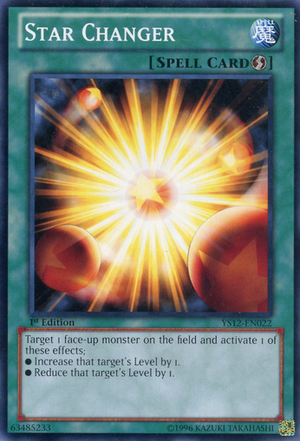 Now I saw this card a couple of days ago,Its one of the many cards from the New Xyz Structure Deck 2012.
This Card Is Very Well worth running in a xyz deck.Why you ask?
1.This Card Is Great for helping decide what to xyz's summon.
2.This Card Is A Quickplay.(Reasons why its good in next reason.)
3.With this card being a quick play it has potential to kill TGU and Rabbits.
How?
Opponent:-Uses Rescue Rabbit Effect.-Gets Two LVL 4 Dino's
You:Activates Face Down Quickplay Star Changer.
Changing one of the dino's level's to 5.
End Phase.Both Dino's Die.

This is why this card is great for running in a xyz deck Or Synchro Deck
Same With TGU:
Opponent:-uses TGU Effect-
Summons Other TGU or Sangan.
You:-activates quickplay Star Changer changing either sangan or TGU to Level 2.
The Reason I pick 5 for the Dino and 2 for the TGU is because.....
Its Harder to Xyz with!
If you make TGU 4 its still easy to summon Utopia.
Making it Level 2.Is Really Hard for the opponent.
Level 5 for one of the dino's because again 5 is harder to xyz with then 3 is.
Also this Card Is Great if your using XYZ Lockdown.
Stops your opponent from attacking with a lvl 3 Monster.
So Star Changer can be your best friend and your opponent's worst enemy.
Remember!This Card Can Help Stop Synchro Summons Also,or help you Synchro summon!
(By Making Odd End Monster Level's)
So The Next Time you make a Xyz Deck Or Synchro Deck,Try Running Star Changer.
------------------
If you have anything to Add to this send it to me Via PM!
-Logan